Air Fryer Stuffed Mini Peppers
Mini Peppers stuffed with Boursin cheese are a tasty mini pepper appetizer idea that combines the sweetness of mini bell peppers with the creaminess of Boursin cheese. Made in the air fryer and ready in under 15 minutes, these air fryer stuffed mini peppers are the perfect appetizer or snack!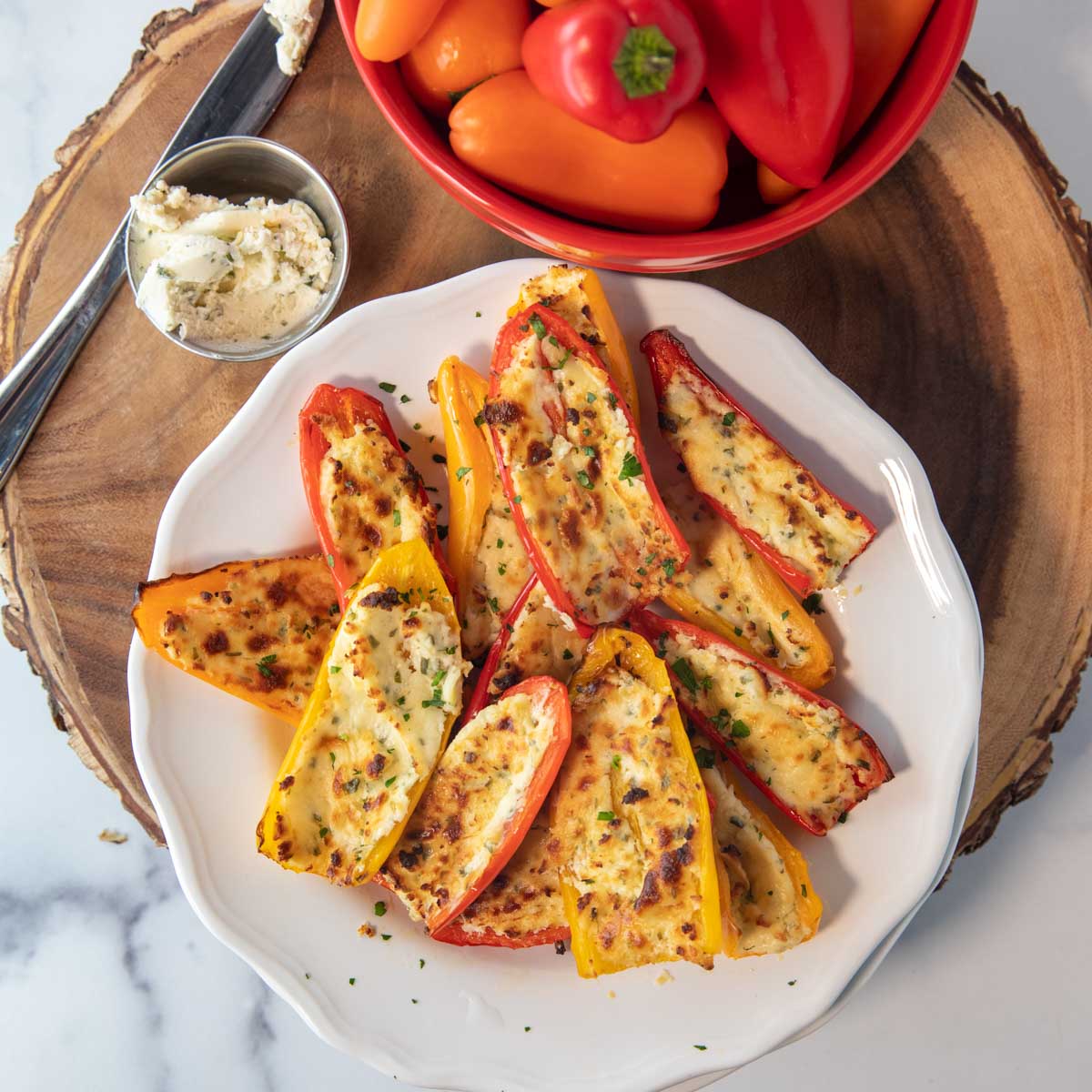 Mini Pepper Appetizers
Mini bell peppers are truly the perfect star of the show for appetizers. They are naturally sweet, cook quickly, and there's so much you can do with them. While we stuffed these peppers with Boursin cheese, you could also stuff them with goat cheese or a flavored cream cheese spread like garden vegetable or chive cream cheese.
Another Mini Pepper Appetizer that you've gotta try is this recipe for Grilled Stuffed Mini Peppers! It's similar to this recipe, but the stuffing includes fresh lime juice and cilantro, and they are made on the grill.
Products you'll need for Air Fryer Stuffed Mini Peppers
How to Make Stuffed Peppers in the Air Fryer
Here is a brief overview of how to make air fryer stuffed peppers. For the full recipe including all measurements, scroll to the recipe card at the bottom of the post.
Prepare your peppers. Cut off the stem and cut your peppers in half the long way. Remove the seeds and membranes from the pepper halves. While you are doing this, preheat your air fryer.
Toss the peppers with olive oil. Lightly season them with salt and pepper.
Add the cheese. Spread the cheese into the peppers and put them in a single layer in the preheated air fryer.
Cook the peppers. Air fry for 6-8 minutes, or until the cheese is melty and slightly browned.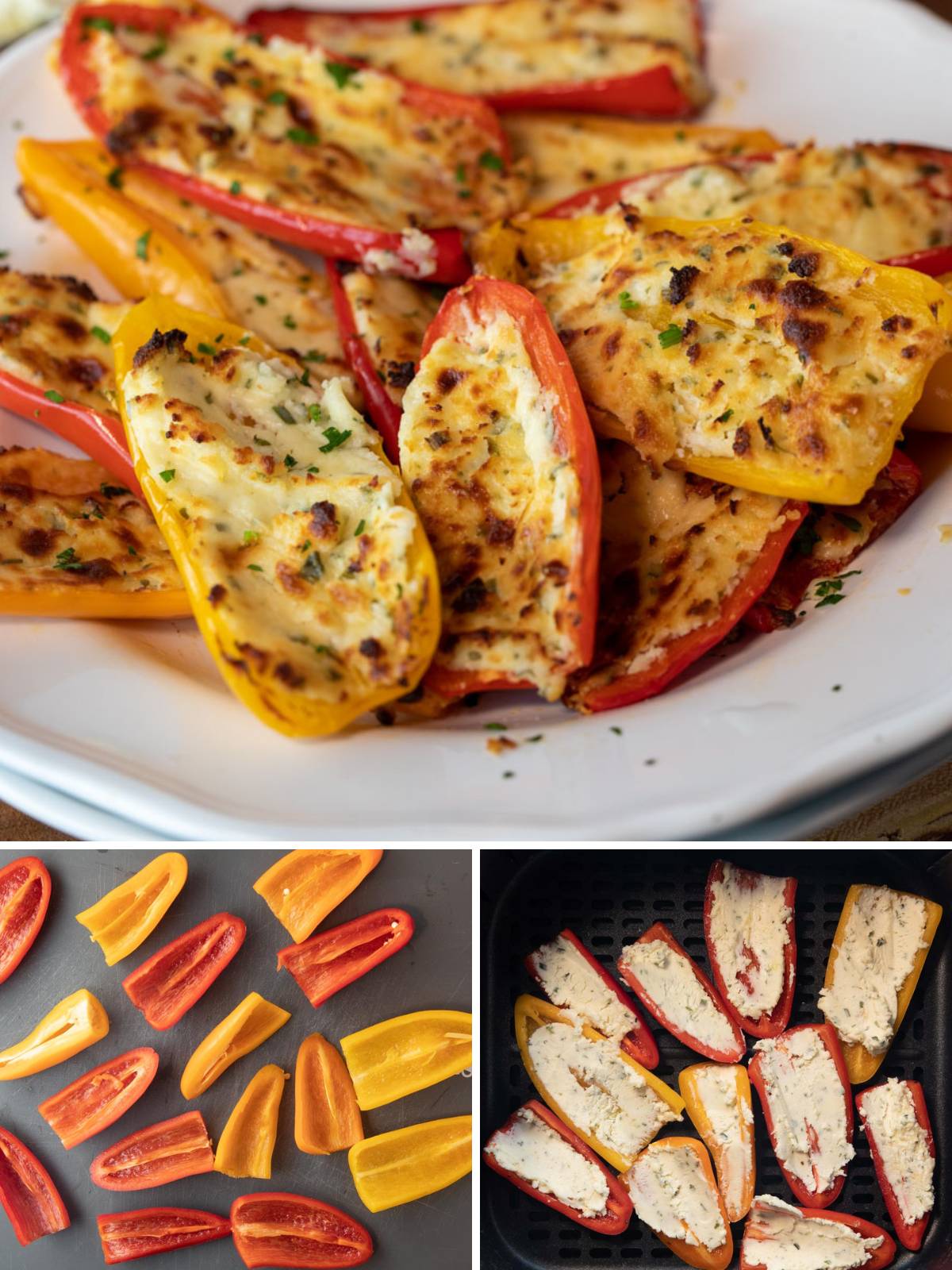 What Cheese to Use
I find this recipe to be absolutely perfect with Boursin cheese. Boursin is a brand of gourmet cheese that is flavored with herbs. This creamy and crumbly cheese is full of flavor and spreads easily into the cut peppers. Alternatives include goat cheese or flavored cream cheese like garden vegetable or chive.
Tips and Tricks
Preheat your air fryer. Just like it is important to preheat your oven, preheating your air fryer ensures that your recipe starts cooking right away and at the correct temperature. It can heat up while you prepare your peppers so does not add any additional time to your recipe.
Cook the peppers in batches if they don't all fit in the basket. It is important not to overcrowd the basket.
To prepare this mini peppers appetizer ahead of time, cut the peppers and put the cheese in them. Store them, covered, in the refrigerator for up to a day in advance. Take them out of the refrigerator and cook in the air fryer according to the recipe directions.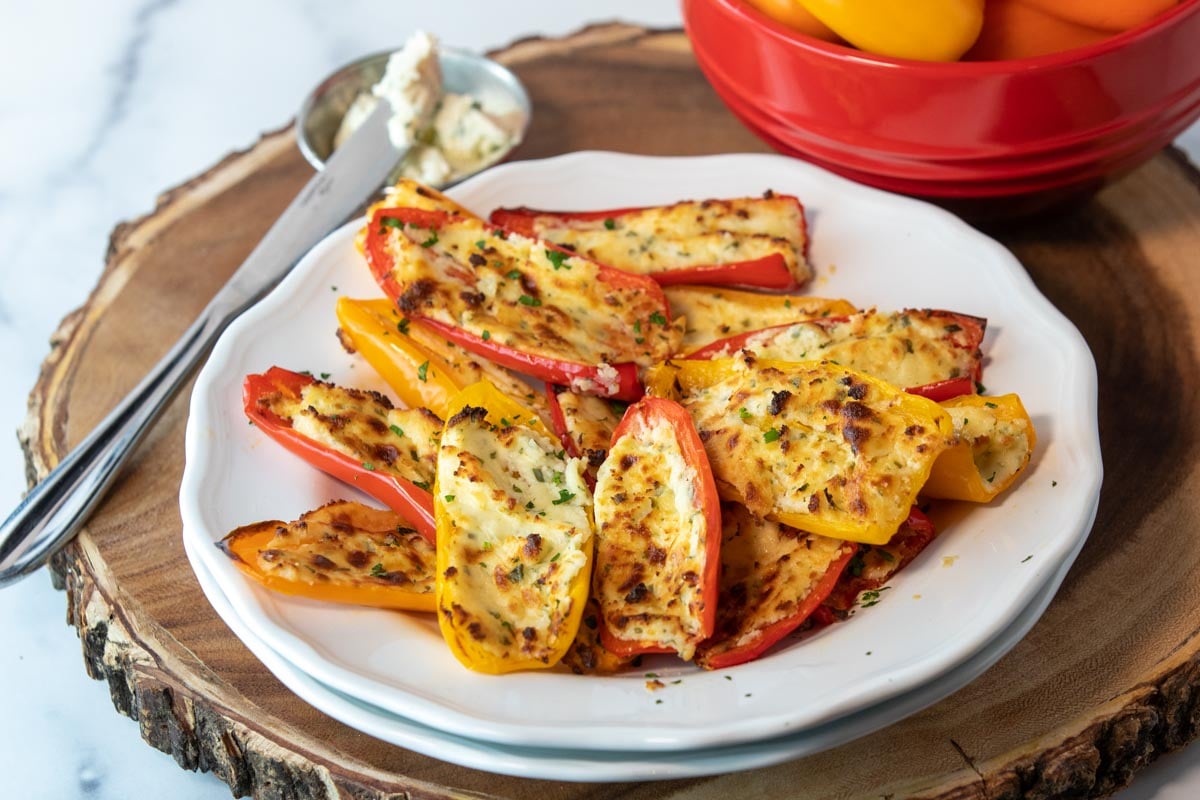 How Long to Cook Mini Peppers in an Air Fryer
When making air fryer stuffed peppers, it is important to have the right temperature when knowing how long to cook them. The air fryer temp for mini peppers in this recipe is 360 degrees Fahrenheit. At this temperature, the mini peppers will be done in 6-8 minutes, or when they are slightly browned on top. They are best enjoyed warm.
Should the peppers be pre-cooked?
Nope, because they are small, the peppers will cook the cheese filling in them.
Is this recipe gluten free?
Yes! None of the ingredients in this recipe contain gluten, but I always recommend double checking your ingredients when cooking for someone who can't have gluten.
Storing and Reheating Leftovers
Store any leftover peppers in an airtight container in the refrigerator for up to three days. Reheat them in the air fryer for a few minutes until heated through.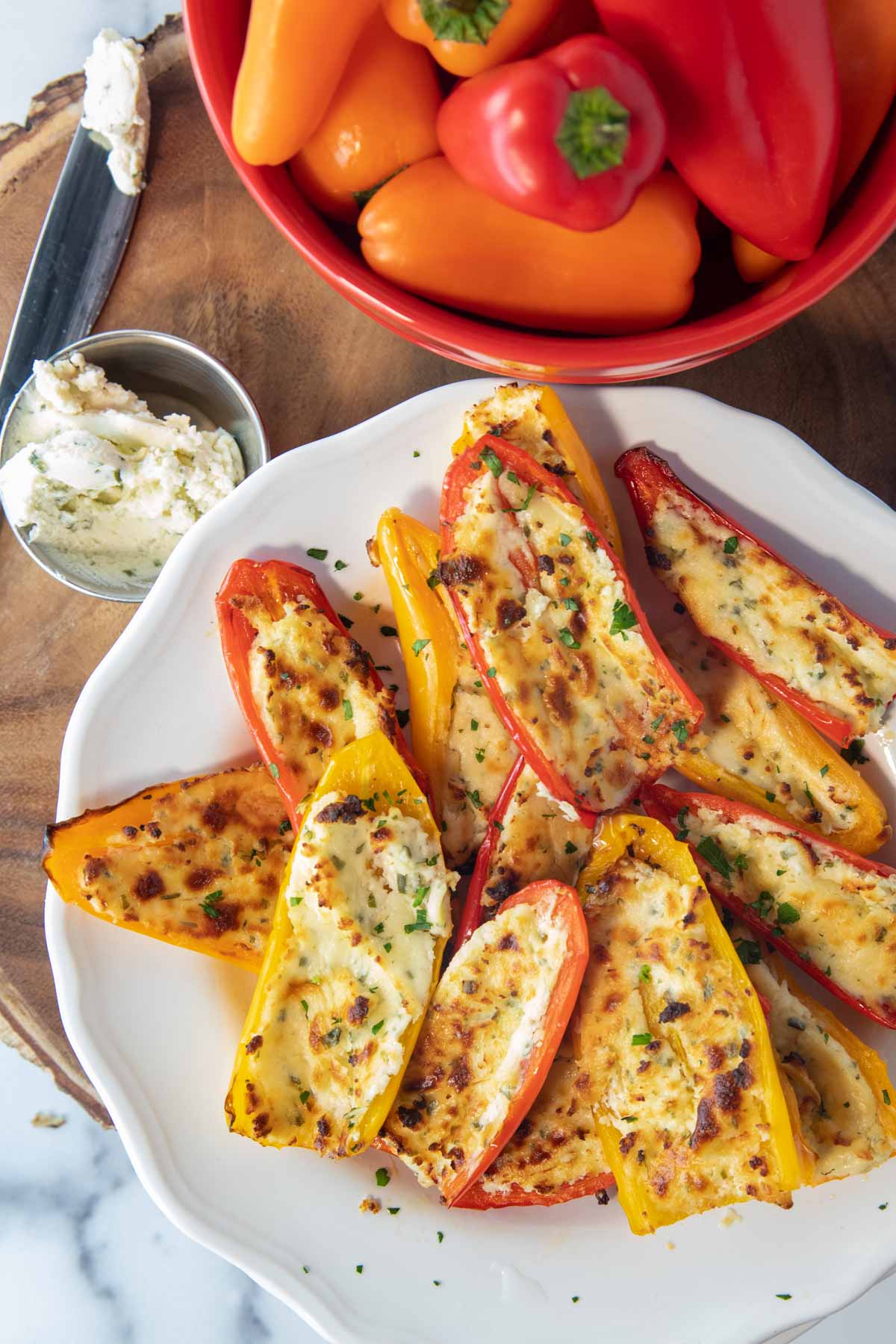 Other Easy Appetizer Recipes
If you make these mini pepper appetizers or any of my other recipes, please leave a comment and let me know what you think. I love hearing from you!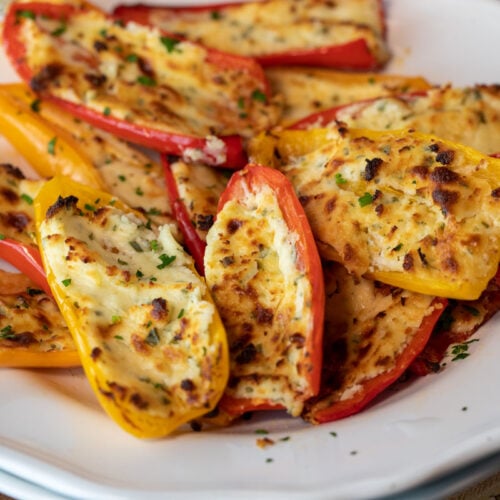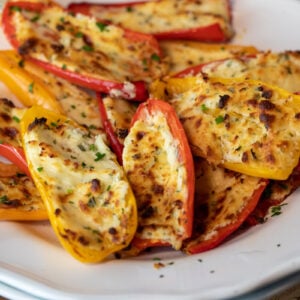 Air Fryer Stuffed Mini Peppers
Mini bell peppers stuffed with Boursin cheese and made in the air fryer!
Ingredients
8

mini bell peppers

cut in half length wise with seeds and membranes removed

1

tsp

avocado oil or olive oil

salt and pepper to taste

4-5

oz

Boursin cheese

(alternatives include goat cheese or flavored cream cheese like garden vegetable or chive)
Instructions
Preheat air-fryer to 360 degrees Fahrenheit.

Cut off the tops of the peppers. Then cut each pepper in half lengthwise and remove the seeds and membranes.

Toss peppers with 1 teaspoon avocado or olive oil and season with a sprinkle of salt and pepper.

Spread Boursin cheese on pepper halves.

Arrange the peppers in the basket of your air fryer and air fry for 6-8 minutes.