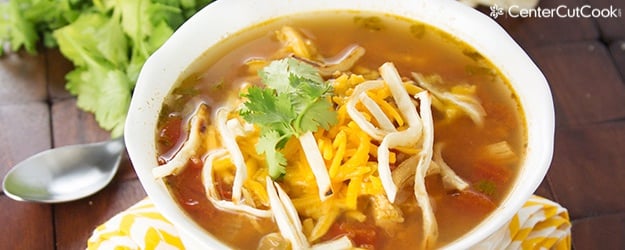 Hey guys, guess what day it is? It's day 4 of soup week!All week long I've been sharing some of my favorite soup recipes with all of you, starting with Loaded Baked Potato Soup on Monday, Broccoli Cheese Soup on Tuesday, and cheesy Lasagna Soup yesterday. Each of those recipes are some of my go-to choices, in fact, I've entertained with all of them, but none of them has been around longer in my stash of recipes than today's recipe for Slow Cooker Chicken Tortilla Soup!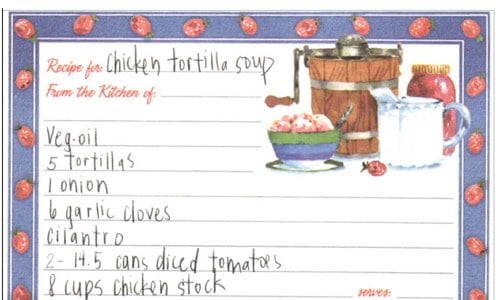 I've been making this recipe for Chicken Tortilla Soup for the better part of the 10 years I've been married. What you see above is the little recipe card I had scribbled this recipe down on, likely sometime in late 2003 or early 2004. While I ditched my physical recipe box a few years ago, I scanned in every single recipe card that was in it, including this one. I continue to go back to this recipe because with the help of a slow cooker, it is so easy to make and so delicious! I think you'll discover that it tastes even better than the chicken tortilla soup you've had in restaurants.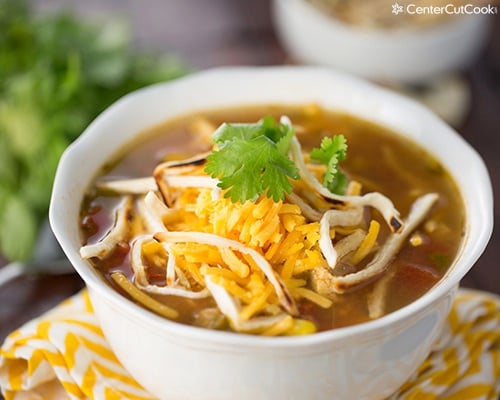 If you can dump a few ingredients into a slow cooker, you can successfully make this soup! Now is probably a good time to mention that you do need a 6 quart or larger slow cooker to make the full recipe. If you have a smaller slow cooker, go ahead and cut the recipe in half, or just cook it on the stove top in a large stock pot.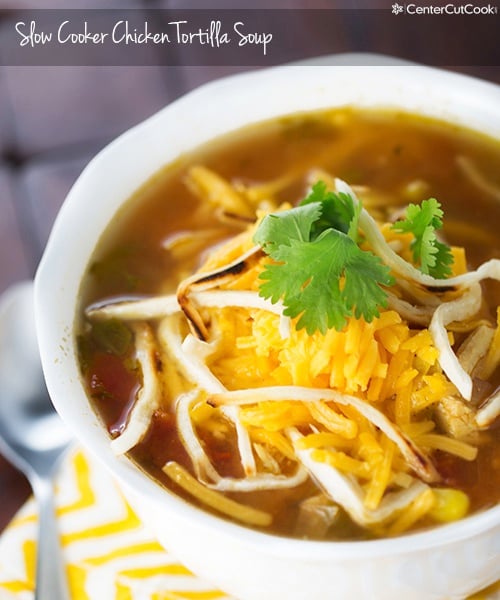 I like to garnish each bowl of soup with some crispy tortilla strips, a little cheese, and sometimes I'll even add a dollop of sour cream. It is the perfect recipe for a cool fall or cold winter day, and one that the whole family will enjoy!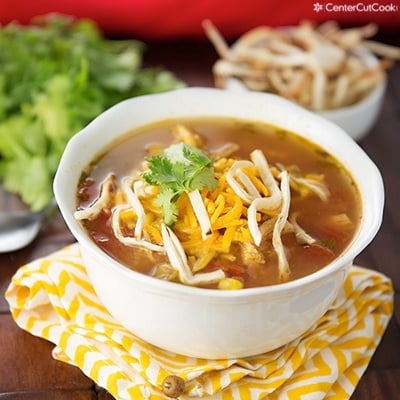 INGREDIENTS
2 tablespoons vegetable oil
5 tortillas, cut 2 of them into thin (about 1/4 inch) strips, and tear the remaining 3 into large pieces
1 onion, diced
6 garlic cloves, minced
29 ounces diced tomatoes
8 cups chicken stock
1 1/2 tablespoons cumin
1 tablespoon chili powder
1/2 teaspoon cayenne pepper
4 boneless chicken breast halves (uncooked)
1/2 cup fresh cilantro, chopped
14 ounces frozen corn
Juice from 1 lime
Shredded cheddar cheese for garnish
SLOW COOKER DIRECTIONS
You will need a 6 quart or larger slow cooker. If you do not have a slow cooker big enough, reduce the recipe by half, or cook in a large stock pot on the stove.
In a 6 quart slow cooker, combine diced onions, minced garlic, 2 cans diced tomatoes, 8 cups chicken stock, cumin, chili powder, cayenne pepper, bay leaves, and 4 boneless skinless chicken breast halves (uncooked). Stir to combine.
Cook on low for 6-8 hours or on high for 3-4 hours, or until the chicken is cooked through.
30 minutes before you're ready to eat, remove the bay leaves from the soup, take the chicken out of the slow cooker and use two forks to shred it. Return the shredded chicken to the slow cooker. Add in frozen corn, chopped fresh cilantro, fresh lime juice, and the 3 tortillas that you tore into pieces. Cook for 30 minutes longer on low.
Heat 2 tablespoons vegetable oil in a non-stick skillet. When the oil is hot, add in the tortillas that you cut into strips. When the tortilla strips are nice and crispy, remove them from the pan.
To serve, sprinkle shredded cheddar cheese over each bowl of soup and top with crispy tortilla strips.
Recipe from
CenterCutCook