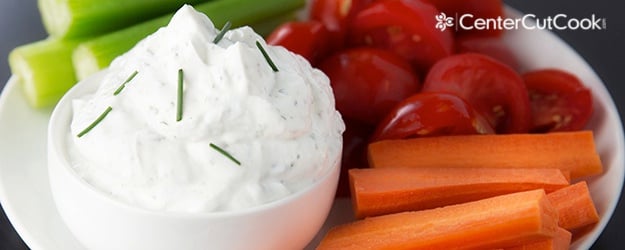 Hey guys! Happy Thursday, I hope you are all having a fabulous week and treating yourself well! I'm excited to share this recipe for Greek Yogurt Ranch Dip with you for a couple of reasons.
Reason #1: This dip is going to make you flip! <——Tweet that! Flip rhymes with dip, and I like words that rhyme. What I mean by that though, is that you are going to love the fact that this dip is loaded with protein, has ZEEERO fat, yet tastes similar to your favorite ranch dip.
Reason #2: We all love easy recipes, right? I promise you that this recipe is super easy.
Reason #3: Over on my Facebook page, you all requested more healthy recipes, so here YOU go! :)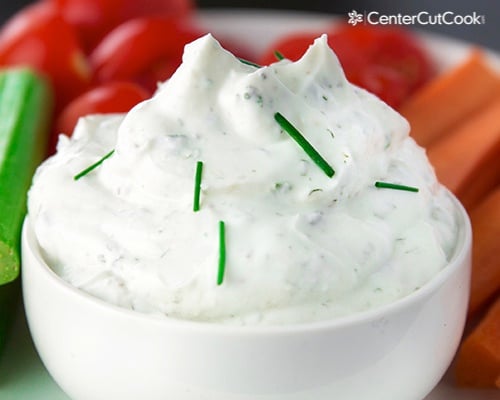 I feel like I should offer a little bit of a disclaimer on this recipe for those of you that haven't had Greek Yogurt before. Earlier I said it tastes similar to your favorite ranch dip. Not identical. If we're comparing Greek yogurt vs. regular yogurt, you should know that Greek Yogurt is quite a bit thicker and the texture is a bit different too. I happen to adore the thick creaminess of Greek Yogurt, which is why it works perfectly for a dip, but if you haven't had Greek Yogurt before, there's a chance you might not like this recipe.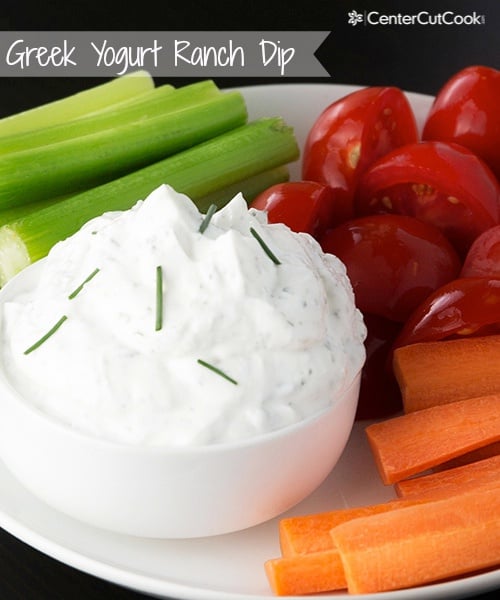 For those of you that know what Greek Yogurt is all about and love it as much as I do, you're going to love this Greek Yogurt Ranch Dip because of all the health benefits it offers, namely the fact that there are zero fat grams. ZERO! I started with my favorite recipe for Classic Ranch Dip and pretty much just subbed the yogurt in place of the mayo and sour cream. Once you get the dip all mixed together, you'll want to let it hang out in the fridge for at least two hours, but overnight is best, so that the flavors can blend together.
Now, go grab some fresh veggies and enjoy this guilt-free Greek Yogurt Ranch Dip!
INGREDIENTS
1 1/2 cups plain greek yogurt
1/2 teaspoon dried chives
3/4 teaspoon dried parsley
1/4 teaspoon dried dill weed
1/4 teaspoon garlic powder
1/4 teaspoon onion powder
1/8 teaspoon salt
1/4 teaspoon black pepper
DIRECTIONS
In a large bowl combine all of the ingredients together and mix well.
Cover the bowl with plastic wrap and refrigerate for at least 2 hours but preferable overnight for the best results.
Serve with fresh veggies or any other dippers that you'd like.
Recipe from
CenterCutCook