There is something magical that happens every year in September when suddenly the thought of sipping soups and pumpkin lattes sounds so satisfying, even when the weather is still screaming summer, and cooler temps are many weeks away.
Once the kids go back to school, it's full-on fall mode over here which always means soup is going to be on the menu. We have lots of favorite soups which I will be sure to include below, but for now, let's talk about this Instant Pot Cheeseburger Chowder/Soup.
Cheeseburger Chowder is a versatile recipe, made in the Instant Pot, but it could also be made in the slow cooker or even on the stovetop. There are so many different ways to make this soup your own, which I invite you to do.
What is the difference between soup and chowder?
What is the difference between a soup and a chowder, you ask? The difference is simply just the consistency. A soup generally has a thinner consistency while a chowder is more chunky and creamy. You can make this more of a soup by adding in beef stock. As it is written, this is a thicker, chunkier chowder.
What ingredients do I need to make Cheeseburger Chowder?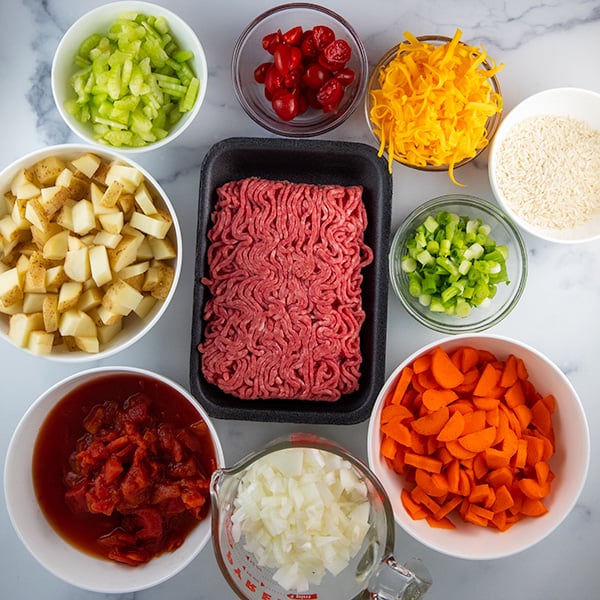 To start, you will need either ground beef or ground turkey. Either of these protein options will work well.
Veggies you will need include:
Onion – you can use a sweet onion like a vidalia onion, or a standard yellow onion and you'll need about 2 cups of diced onion.
Potatoes – I used russet potatoes but you can use Yukon gold potatoes or really any variety that you have on hand. Potatoes can be peeled or unpeeled based upon your preference. I used russet potatoes and needed 3 average sized potatoes to get about 2.5 cups.
Carrots – I used 2 large carrots which was about 1 cup.
Celery – I used 1-2 ribs of celery to get about 1/2 cup of diced celery.
Additional ingredients that you'll need: 1/2 cup of uncooked rice – I use long grain white rice. You'll need 4 cups of beef broth (or water but beef broth is recommended), a 14.5 ounce can of diced tomatoes, garlic powder, salt, black pepper, dried dill weed and dried chives.
To thicken the soup you will use about 1/2 cup heavy cream, along with 1-2 cups of shredded cheddar cheese plus more for garnish.
Cheeseburger Chowder Variations
Bacon Cheeseburger Chowder – one of my favorite way to change up this chowder is to add bacon. Stir in about 4-6 slices of cooked and crumbled bacon just before serving the soup. I like to bake my bacon in the oven.
Another very common variation with Cheeseburger Soup or chowder is to swap the cheddar cheese for Velveeta. I know that people have strong opinions about Velveeta so if Velveeta is not your thing, stick with the sharp cheddar cheese. I like to shred my own cheese – it melts better but you can also use pre-shredded cheese from the grocery store.
How to make Cheeseburger Chowder Low Carb/Keto
You can make this cheeseburger chowder as a low carb variation by omitting the potatoes and the rice. In its place, I like to stir in a bag of frozen riced cauliflower that I have cooked in the microwave. Any brand will work but the Green Giant Riced Cauliflower is the brand I tend to use the most.
What to serve with Cheeseburger Chowder
The beauty of making soup in the Instant Pot is that it is very hands off. Once you get it started, you can walk away and forget it.
This Cheeseburger Chowder is already a complete meal. You could serve this with some crusty bread, but really, nothing more is needed. Sometimes I'll add fresh fruit on the side because it's something my little guy is always asking for.
Looking for other soups? Here are some of our favorites.
For starters, this Bacon Cheeseburger Soup is made on the stovetop and super tasty!Here are some other options:
If you try this recipe, and I hope you do, please let me know what you think and remember to tag us on social media @centercutcook and use the hashtag #CCCRecipes
This Instant Pot Cheeseburger Chowder will be the perfect addition to your fall and winter menu plans. It's simple to make, cheesy, comforting, and all-around a winner. Pro-tip: Remember that it will take a bit of time for your Instant Pot to pressurize. Allow 5-8 minutes for this to happen before the timer will count down. Enjoy!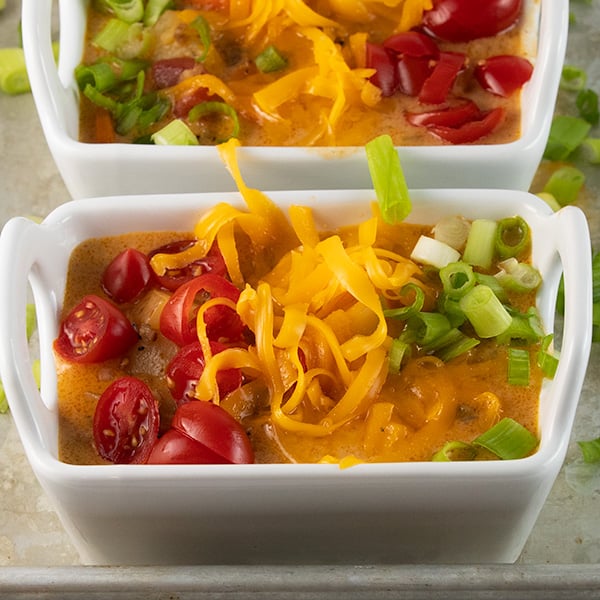 INGREDIENTS
1 pound ground beef or ground turkey
1 yellow onion, diced (about 2 cups)
3 small russet potatoes, diced (about 2.5 cups)
2 whole carrots, diced (about 1.5 cups)
1/2 cup finely diced celery (about 2 ribs)
1/2 c uncooked rice
1 – 14.5 ounce can diced tomatoes
4 cups beef broth or water
1 teaspoon garlic powder
1/2 teaspoon salt
1 teaspoon black pepper
1/2 teaspoon dried dill weed
1 teaspoon dried chives
1/2 cup heavy cream
1 cup shredded cheddar cheese + more for garnish
Chopped chives for garnish
Chopped cherry tomatoes for garnish
Beef or vegetable stock as needed to thin it out
DIRECTIONS
Set Instant Pot to sauté on high.
Add ground beef or ground turkey and brown meat – about 8 minutes. Transfer to a paper towel lined plate. If there is excess fat, drain it to leave about 1/2 tablespoon.
Add onion, and cook until translucent, about 3 minutes.
Stir in potatoes, carrots, celery, uncooked rice, tomatoes, and beef broth.
Next add in garlic powder, salt, black pepper, dried dill weed, and dried chives. Adjust seasonings according to taste.
Choose manual setting on your Instant Pot making sure to adjust the pressure to high. Set the timer for 12 minutes. When the timer goes off, quick-release the pressure. I like to cover the valve with a kitchen towel to prevent it from spraying.
After you've quick-released the pressure from the Instant Pot, select the saute setting on high. Stir in heavy cream, then add shredded cheese.
If the chowder is too thick, add in a bit of beef stock or water until you've reached your desired consistency.
Garnish with additional cheddar cheese, chopped tomatoes, and chives or any toppings that you'd like.
Serve immediately.
Additional options – cooked and crumbled bacon
Servings: 5-6