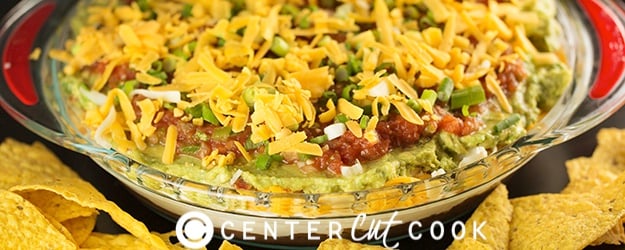 7 layer dip is one of those classic appetizers that gets gobbled up in the blink of an eye. And while it sounds complicated, with seven different layers and all, it is pretty simple to make. The order of ingredients is key, starting with a bean layer on the bottom, then a cheesy sour cream layer, followed by a layer of cheese, then guacamole, salsa, more cheese and scallions with optional sliced black olives for garnish. Yum!
While you can take a few shortcuts to make this recipe a bit quicker, like buying pre-made salsa and guacamole, I like to make sure I make the guacamole and salsa from scratch. It just tastes better that way. While some 7 layer dip recipes call for refried beans, I actually use black beans because I like the consistency better.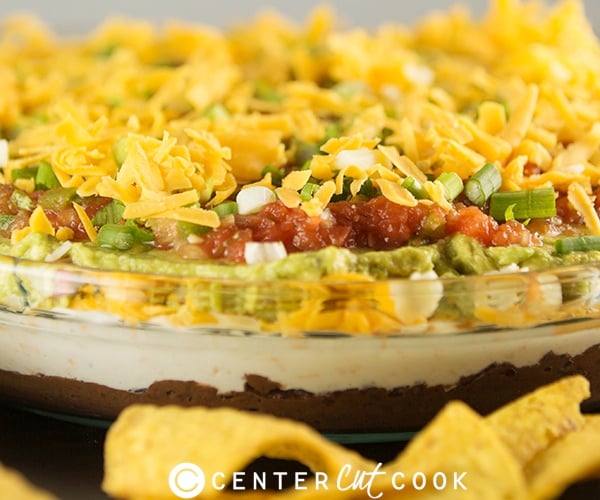 This recipe, as written, is vegetarian, but you could definitely add some taco meat if you wanted to make it, you know…. a little more beefy?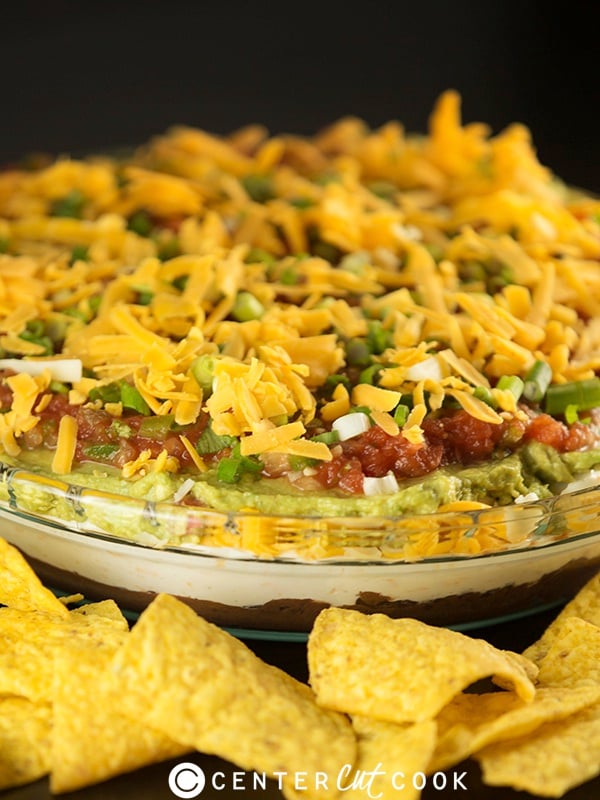 This 7 layer dip recipe is best served with tortilla chips, so grab a chip and dig in! Enjoy!
*Note: You will get the best result if you make this the day that you're going to eat it. You can make it a few hours ahead of time, but I really don't recommend making it the night before.
INGREDIENTS
16 ounce can black beans, drained
1 packet taco seasoning or use 3 tablespoons homemade taco seasoning
16 ounce container sour cream
4 cups cheddar cheese, divided
3 cups guacamole (I use this recipe for The Best Guacamole)
1 to 2 cups chunky salsa with excess liquid drained (homemade salsa recipe)
3 scallions, chopped
Sliced black olives for garnish, if you wish
DIRECTIONS
With your food processor, pulse together 1 – 16 ounce can of black beans with 1 packet taco seasoning. When the mixture looks like a chunky paste, it's done. Spread this on the bottom of a glass pie plate or any other large glass container that you have.
Wipe out the bowl of the food processor, then pulse together sour cream with 1 cup cheddar cheese. Spread this layer over the beans.
Sprinkle and additional cup of cheddar cheese over the sour cream layer.
Spread guacamole over the cheese.
Before you spread the salsa, be sure any extra liquid is drained from it. I placed the salsa in a fine mesh strainer to let it drain a bit. Then spread it evenly over the guacamole.
Top with remaining cheese, then sprinkle scallions on top and sliced black olives if you wish.
Serve with tortilla chips. Enjoy!
Recipe from
CenterCutCook